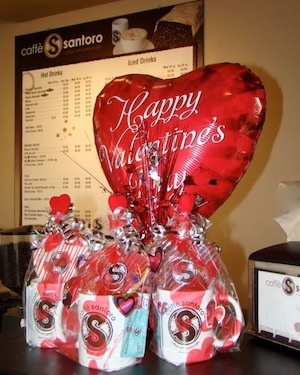 That's right, we broke some hearts this past Valentines day when we were offering a limited ammount of our DELISH cinnamon rolls for just a buck.  If you're following us on facebook you would've known that we were featuring these fun treats for just $1.00.  Unfortunately there were those smart individuals who knew what our cinnamon rolls taste like and were in EARLY and wiped us out quickly.  This is when we had to break hearts of those who came in only to find they had missed out.
The two pictured below are Willow Venebal and Bella Smith who are attending the California Montessori Project School in Shingle Springs, http://cacmp.org/cmpss/  and were our interns for two days.  They were FANTASTIC in helping with creating these treats and serving our team and our guests. We at Caffe Santoro thoroughly enjoy having these young people join us for a few days as they get to experience life outside of the classroom.  I think they had one heck of a BIG 'S' time!
To all of our broken hearted fans keep posted because I just came across a leprechaun who whispered something in my ear about green cinnamon rolls.  You could have the luck of the Irish.  Keep your browser pointed to caffesantoro.com to keep abreast of all that we're doing.